The initial idea
The project started in 2018, and the initial idea was to finish it for the Brussels Comic-con 2018. The idea was to create an old camera case to fit my Nikon D3100 in. It was perfect to take real photos while wearing my vintage Press reporter cosplay :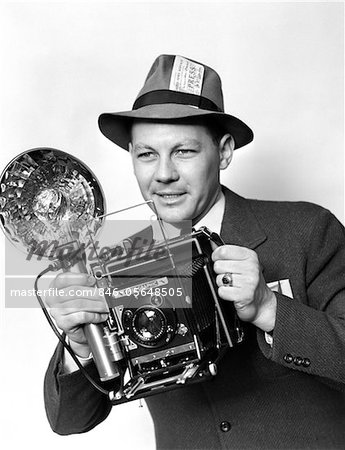 Here is the first design of the case, with all the Nikon D3100 measurements :
At the time, I used Cinema 4D . Quickly, I started to make all the pieces for the 3D printing step. The model was quite simple, and the pieces had to fit well.
This slideshow requires JavaScript.
The final 3D model looked like that :
At the end, I was stuck. My 3D printer at that moment wasn't very efficient (ANET A8) for this huge project, and the 3D model wasn't so good… I never finished this project, so I went to the 2018 Brussels Comic-con without my cosplay.
The V2 creation
Later in 2018, after the Comic-con, I decided to restart the project from scratch. I found another camera model that I really liked, and started to model it with Blender. The idea was the same, my Nikon D3100 had to fit in the camera case.
Meantime, I changed my 3D printer with a more stable one (Creality Ender 3), so I was able to print the pieces for real. There are holes in the flash's tube to add a real flash on it. For the first 3D printing step, I printed all the structural pieces, and checked if everything was fine with tape.
The printing step was one of the biggest part of the project. But there was another big part, the assembling :
First, I stuck the main box pieces with instant glue, and then I painted all the other pieces, some in black acrylic and some in metal paint spray (and then I used polish). I stuck all the painted pieces and add fake leather on the main box. For the accordion, I used paper and paper-mache before paint it in black. As there isn't wall between the accordion and the main box, I closed it with paper-mache, too
After 3D print, cardboard, paper-mache, glue and paint, I used an old leather belt for the handle and the strap. My father and I tried to move the internal Nikon flash on the tube's flash, using longer wires. It worked three times, and then the flash burned. The camera is alright, but the flash is dead, so I have to find another solution.
I'm proud to present you the final model :
This slideshow requires JavaScript.
First attempt with my cosplay :
UPDATE 01.30.19
I replaced the front lens text with a better typo and paint job. With my father's help, we reused an old external camera flash and modified it to have a longer wire for the flash tube. This time, it didn't burnt !
Final object :
The 3D pieces are visible on Sketchfab :
---
Mickael Boitte 2019